Brazil can now be proud of being the first country in the world where the newborn was registered on the Decred (DCR) blockchain.
The record was made by Edson Neto, who became an important character in the Brazilian crypto-currency ecosystem since back in 2015, when, together with Fábio Anjos, he founded RexBit. They did a great work by convincing merchants to accept Bitcoin as a payment method in Aracaju.
Edson Neto started very early in the crypto-scene, and even bought his Bitcoin in Brazil before founding his own exchange.
As a true crypto enthusiast and evangelist, Neto decided to involve blockchain technology in one of the most important moments of a man's life: having a child.
After baby Maria Julia have born she was registered on a Decred blockchain and made thru OriginalMyCom – a blockchain proof of authenticity services provider.
The world first birth registered on @decredproject $DCR is a brazilian girl! And made thru @OriginalMyCom !!!
We are so proud! But wait, there's more anouncements! https://t.co/tt6ePnMdJN

— OriginalMy (@OriginalMyCom) September 17, 2018
O primeiro registro de nascimento feito na blockchain da @decredproject no mundo foi de uma brasileira. E foi feita pela plataforma da @OriginalMyCom.

Confira a história da pequena Maria Júlia na matéria especial que fizemos. https://t.co/1P3ejwZPdH

— Luciano Rocha ⚡️⚡️ (@_iLucian_) September 17, 2018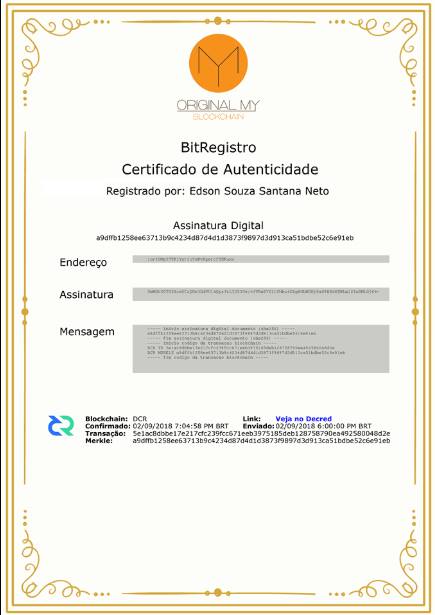 Another reason that caused Neto to register the daughter's birth in the blockchain was to show the world that technology already can go beyond the transfer of cryptocurrencies and added,
"As an enthusiast of technology, my goal was to show the people the other applications of technology, which goes beyond cryptocurrencies."
Strenght of the community
Neto also highlighted all the support he received from the Brazilian community of Decred and OriginalMy.
"Brazilian Decred community is one of the greatest community of all. <…> EMILIO MANN (CREATOR OF THE COMMUNITY DECRED IN BRAZIL) AND EDILSON (FOUNDER OF THE ORIGINALMY) HELPED ME AND TOGETHER STRUCTURED HOW WOULD THE REGISTRATION BE DONE, WHAT WOULD BE THE PROCEDURE ."
There are very few children registered in blockchain and Maria Júlia was the first one registered on the Decred blockchain. Although it is still something unusual, it is believed that in many years, it will be something as common as to register in a regular registry system.
Source: Criptomoedasfacil