Last 7 days were extremely positive for VeChain (VET) as during volatile markets VET soared 54.67% up with current price of $0.014 with a marketcap of $782,437,104.00. Also extraordinary gains in number of transactions on VeChain blockchain is visible.
On June 30 VeChain launched their mainnet starting the migration from Ethereum VeScan, which is the first online block explorer for VeChain.
VET block explorer VeScan reports unseen numbers of transactions carried on VeChain blockchain. It shows over 10 times gains in number of transactions since VeScan went live.
Number of transactions soared from 6973 to 86 515 on august 20th and even 97 689 transactions were carried on august 22nd. It is 14 times gain and there might various reasons for this event.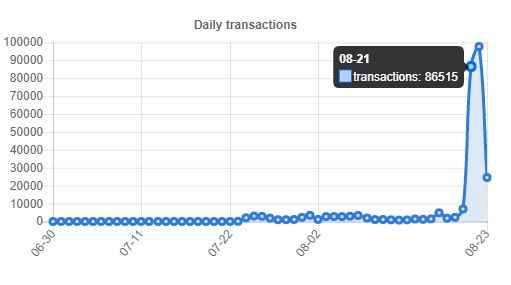 One of the reason might be announcement about Oceanex (OCE) becoming the first ecosystem token minted on the VeChainThor Blockchain.
We are excited to witness the first ecosystem token – OCE is now minted on the VeChainThor blockchain! The power of VeChainThor is only just starting to show. https://t.co/UVWFovqmTI

— VeChain Foundation (@vechainofficial) August 20, 2018

Another reason migh be Sunny Lu mentioning huge improvements and partnerships in September, 2018.
During live Q&A session (video below) on august 20th Sunny said that semptember will bring much anticipated improvements and partnerships for VeChain and its community.
He announced mystery partnership between automobile giant which is very aggressive green energy and connecting cars. Also mentioned collaboration with major insurance company (name undisclosed) and Government-level deployments between two more countries. 
Video:

As Sunny Lu said "looks like we never rest". September might be a VeChain month.
It seems that since partnership between VeChain THOR and BMW VET team does not plan to lower the gear and keeps moving forward.