Cryptocurrency investors and holders can now easily invest in real estate, crowdfunding, and other securities offerings without having to exchange coins to FIAT money and then wire funds in USD.
Prime Trust, a technology-driven trust company, announced that it has released new technology which enables real estate syndicators and securities issuers to accept funds from investors in the form of Bitcoin and Ethereum, frictionlessly and with zero crypto-market risk to the syndicator or issuer. This enables holders of these virtual currencies to invest in real estate, crowdfunding and other private and public securities offerings without having to go through the cumbersome and often confusing process of liquidating tokens and then wiring funds in USD to an escrow account at Prime Trust.
Why it is so important?
With this transaction technology, real estate syndicators, portals, platforms, brokers and direct-issuers can now accept investments with minimal friction, regardless of whether the investor is remitting funds to escrow via wire, ACH, check, credit card, Bitcoin or Ethereum.
How Prime Trust system works
Historically in Prime Trust's standard escrow business for the securities and real estate industries, funds could be remitted via ACH, wire, check or credit card. The firm's transaction technology presents the investor with funds delivery instructions specific to the method they chose to send funds. Bitcoin and Ethereum work the same way. Prime Trust's systems present BTC/ETH delivery instructions, including a unique wallet address and QR code for the specific transaction (see attached example photo).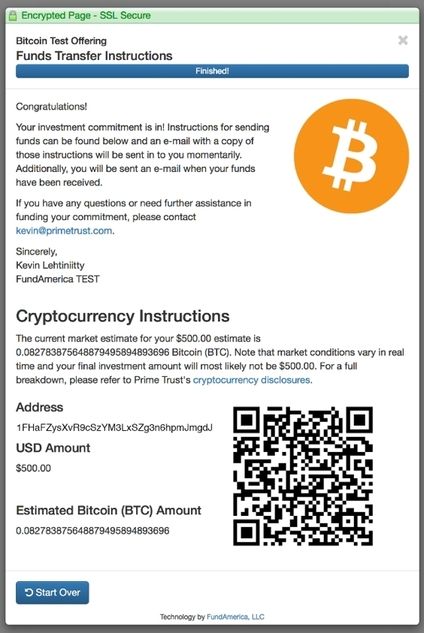 "Demand for people to be able to use digital currency as a method of remitting funds for investments they make in real estate, as well as traditional Reg D, Reg A, Reg S, and Reg CF offerings has been dramatic,"
said Scott Purcell, CEO of Prime Trust.
"After years of leading the crowdfunding and real estate industries with technology-driven escrow, compliance, KYC, AML and other services, adding Bitcoin and Ethereum is a natural extension of what we provide our portal, broker, real estate syndicator, adviser and direct-issuer customers."
The technology is now out of beta and released for select Prime Trust customers. It is available both via API's and via the Prime Trust "Invest Now" plug & play transaction engine. It is highly scalable and can be used for both initial (primary) offerings, as well as for escrow and clearance of secondary transactions by exchanges.
About Prime Trust
Prime Trust is a chartered Nevada trust company that as a Qualified Custodian provides custody of cash, tokens (aka "coins"), stocks, bonds, private business interests and other assets. It also provides compliance and specialized services relating to funds processing, AML/KYC compliance, and transaction technology for the new digital economy. As a blockchain-driven trust company, its mission is to provide portals, platforms, brokers, real estate syndicators and direct-issuers with best-in-class solutions to seamlessly meet the needs of their securities offerings and of exchanges and secondary markets. As a trust company, Prime Trust provides a wide array of account types, including simple custody, IRA's, asset protection trusts, health savings accounts and college savings solutions, all of which are designed to hold any asset class.
---
Please note:This article was created by third party and originally published on www.businesswire.com.