We are happy to present you WONO – a multipurpose blockchain-based platform for sharing, earning and spending. WONO will combine the functions of Airbnb, Turo, Upwork, TaskRabbit and a little bit of Craigslist united in Ethereum blockchain. It means a user can find a job, get tokens for doing it (like Upwork or TaskRabbit) and spend these tokens on buying or renting anything he/she likes inside a single platform with one single currency involved – WONO tokens.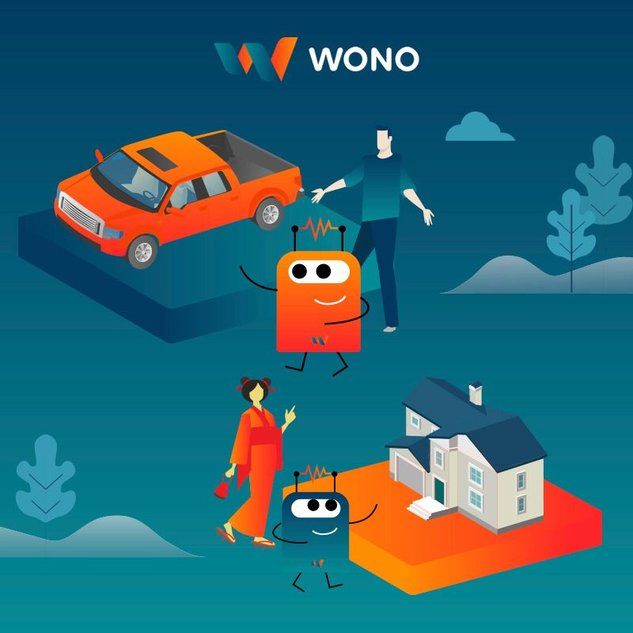 "Who needs a new platform when people are already successfully using the listed above services?", – Critics may say. However, just imagine, how much money you as an asset owner or a tenant lose on taxes, platforms various fees, currency exchange fees and other hidden charges which typically get revealed only in the final receipts.
What's more, using different online platforms pretty often results in numerous limitations: earnings hold period, currency exchange fee, extra fee for money withdrawal, inconvenient payout options, etc.
Finally, each service has its own customer loyalty program, and it's almost impossible to transfer bonuses from one platform to another in case you want to spend them on renting a car after you've booked a hotel.



Renting
The most obvious function of any online platform for travelling – collecting a list of assets available for renting. How can WONO improve this successfully working system? Being based on the blockchain, WONO will make any deal transparent and secure with smart contracts. No more lost money and spoiled vacations thanks to the owner's last minute decision. Also, forget about currency exchange fees. You can choose any flat in Europe, America, Asia, anywhere you like, and not care about currency exchange, as WONO token is the same in every country.
Sharing
Safety first! This time if you rent out your flat on WONO platform, you sign a smart-contract with your guest. This guarantees that your customer will pay for the rental. What's more, you as a vendor don't care about taxes since tokens are non-taxable in the US until they are withdrawn.
Earning & Spending
WONO is perfect for freelancing. You can earn tokens doing any job you choose and spend them without withdrawing on renting homes, cars, bikes and any other stuff: for example, a snowboard and a GoPro camera to shoot your ride.
VIDEO:

Though the market release of WONO is scheduled to spring 2019, the proof of concept will be shown at the end of July, just prior to the ICO.
Media Contact
Name: Kirill Pyrev
Email: kp@wono.io
TG Group Link: https://t.me/wonoworld
Website: https://wono.io
---
Please note: This article was submited as a press release by third party. Cryptovibes.com does not endorse any descisions. Readers should do their own research before investing funds in any financial asset or attending any presented event. We are not responsible for any profit / loss your descisions might lead to.