According to public records published on April 23 by Arizona House of Representatives the bill SB 1091 has passed, which now allow Arizona residents to pay taxes in Bitcoins or any other cryptocurrency.
"A TAXPAYER MAY PAY THEIR INCOME TAX LIABILITY USING A PAYMENT GATEWAY, SUCH AS BITCOIN, LITECOIN OR ANY OTHER CRYPTOCURRENCY RECOGNIZED BY THE DEPARTMENT, USING ELECTRONIC PEER-TO-PEER SYSTEMS."
Action took place on February 8th in Arizona's State Senate. The bill has been expanded in aspect of number of altcoins that could be used to pay taxes.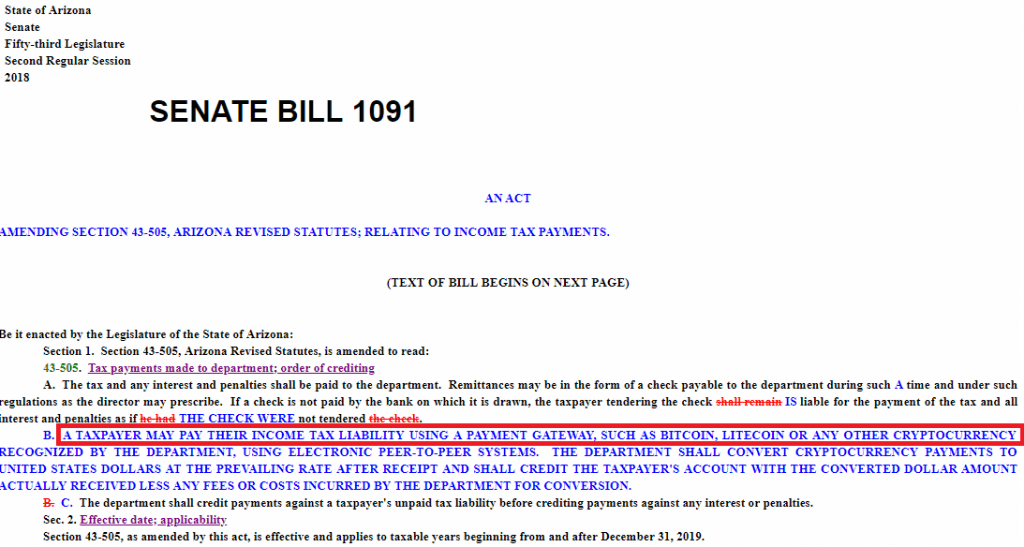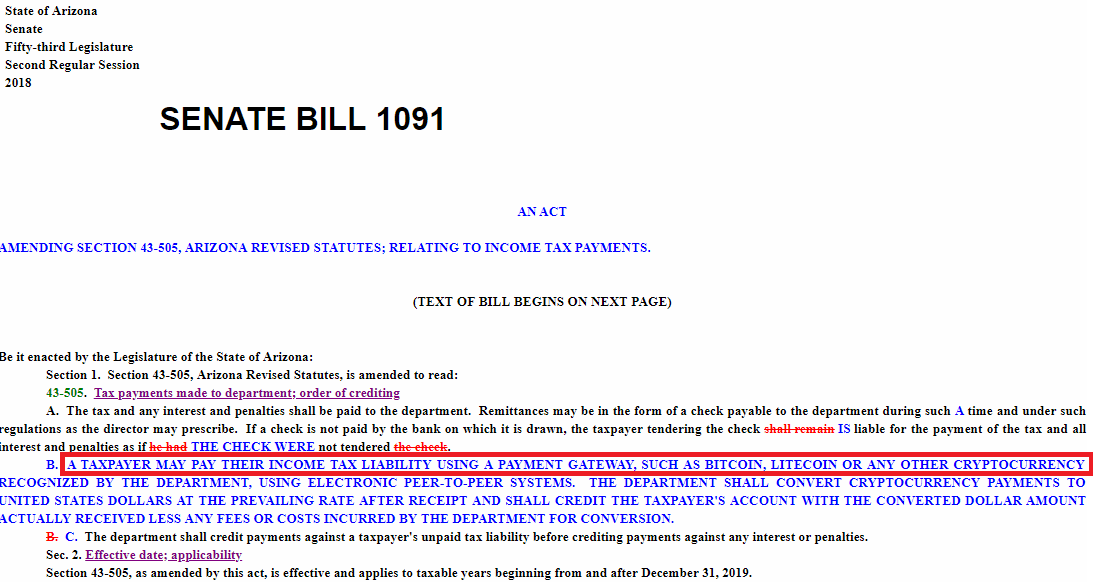 To be safe from high rates of cryptoccurency volation, the government simply convert cryptocurrency to US dollars at a current rate upon receipt.
"THE DEPARTMENT SHALL CONVERT CRYPTOCURRENCY PAYMENTS TO UNITED STATES DOLLARS AT THE PREVAILING RATE AFTER RECEIPT
AND SHALL CREDIT THE TAXPAYER'S ACCOUNT WITH THE CONVERTED DOLLAR AMOUNT ACTUALLY RECEIVED LESS ANY FEES OR COSTS INCURRED BY THE DEPARTMENT FOR CONVERSION."
Arizona's government is trying to push forward blockchain technology for mass adoption. Some actions were made in past already.
In April 2017 bill HB 2417 legalized Blockchain signatures and recognized the enforceability of smart contracts.
Arizona's Revised Statutes now stipulate that data "written" and stored on Blockchain technology is "immutable and auditable and provides an uncensored truth."
Arizona State is a positive inspiration for all government institutions but so is Canada. Did you know that Canada is using the Ethereum blockchain to proactively publish grants and contribution data in real time?
There's things to come in financial system so don't miss any of this by subscribing to our newsletter.