Computer code that can faciliate exchanging of money or anything that has a certain value between parties or individuals is called a Smart contract. Contract removes the interferece of third person in the exchanging process, making things faster and less complicated.
Ethereum was specially created and designed to support Smart contract. Contracts themselves can be programmed in special programming language called Solidity. The language uses a syntax that resembles Javascript. Worth mentioning Bitcoin has support for Smart contract, but it is very limited and complex in comparison of Ethereum. Contracts can be encoded on any blockchain, but Ethereum is mostly used since it gives unlimited processing capability.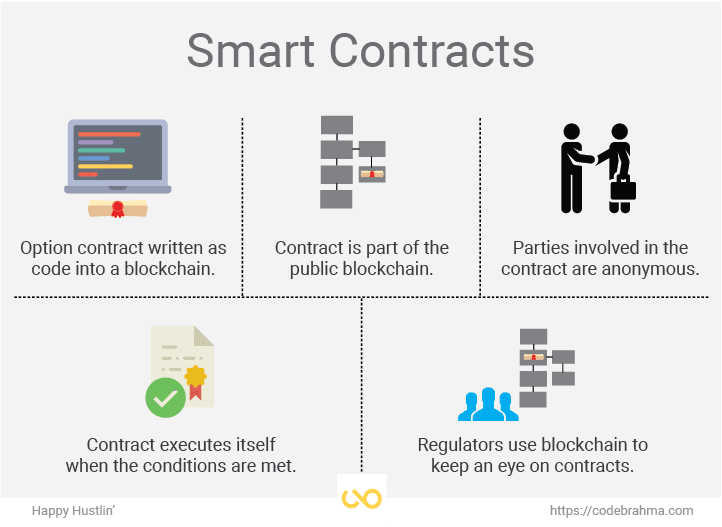 Smart contract – a code built-in blockchain, a cryptocurrency network that nodes or computers and executes it to update the distributed ledger. In it's simpliest form, a distributed ledger is a database held and updated independently by each participant (or node) in a large network. When on blockchain, Smart contract code run exactly as programmed without any possibility of unwanted interference, downtime or fraud. On top of that all transactions are meant to be irreversible and unchangeable, this feature makes it secure and nearly unhackable.
Describing smart contract in a nutshell
An agreement between couple online parties, that can be automatically executed in transparent blockchain using tokens or crypto coins wich represents as cryptocurrency, where specific tasks are executed once certain goal is reached or conditions are met. This is called If-Then logic. If You do this, then that happens. Preexisting event is needed to be to trigger next event, like a domino. If conditions aren't met from one of the parties, Smart contract returns back it's original owner, this helps to be safe from any loss of value or theft. To understand this more clear, it is much easier making in relation of something that we are well aware already.
For example buying a car. Going online through craig list, finding which one satisfies the needs. Then meet up with a dealer or dealership, negotiate the price. After it's a must to go to bank for a pay check, with received money from bank, dealer must clear the check, making sure it's fine. And yet, person signs alot of papers like registration, ownership, title for a car. Dealer also writes documents providing information that car was legitimate and sold to individual. Only then car goes from one hands to other. This procedure takes a while, might take a few days. Imagine the possible human factor like incorrect data in sale documents or mistake at the bank leading to a delayed deal, delay means wasted time and time is money.
Let's try to look at the deal from different view, with help of the Smart contract. Finding desirable car online for sale, vehicle's data is provided in the Smart contract such as ownership, milage, performance, asking price, etc; which is uploaded to the blockchain. Since deal is on the Smart contract, order can be executed realtime right here, right now. Having virtual account with enough funds of tokens, car can be bought instantly in matter of minutes. Conditions are met to execute smart contract (sending the money to another party). Person who sucessfully executed contract is now the owner of that data.
Transaction being stored in the blockchain at same time every single node receive information and system automaticially updates the blocks, everybody knows about those parties made a deal. This is a proof for the person who have that virtual account is real owner of data, the car itself.
Benefits of a Smart Contract
On the other hand it looks complicated, without going further into the details it would look like this in real life situation: Person finds the vehicle online, reads provided information, buys the car nearly instantly. That's it, it is ready for operation everything verified, legit and recorded. Benefits are real – saves alot of time, from hours or days to minutes; less fees are wasted in procedure, no need to pay for third party services; this way history of the vehicle could be tracked and stored without any difficulties, because blockchain data can't be rewritten or falsified; one of the best pro the Smart contract reduces the human factor involvment, because person don't need to sign any paperwork; small chance of any possible fraud, as we know it works on If-Then logic.



Another use Smart contract could provide multi-signature buying, the exponential feature. Numerious parties buying a valuable distributed in equal or unequal amounts, depending on required contract execution rules. Vice versa, owner could sell off his owned a piece of asset without the need for agreement for other parties sell whole substance to split the money. Coming to the conclusion, many procedures of agreements and paper work could be bypassed with the help of Smart contract. It is very versatile, can be used for daily uses, because procedure works in any case where two parties execute transaction. Transaction itself doesn't have to be in form of valuable, could possibly be a task, when executed parties could rely on it as trust source.
Far from perfection
Smart contracts are still far from perfection. In real world there's balance everywhere, where are good things there are bad things. Everytime possibility exists for bugs or errors to occur in programming of code. Human factor is still tied with it because the power of the contract represents how smart or "strong" person is whos writting it.



Taking scenario where mistake in the code gets exploited by hacker, there is not many options to choose from making efficient and fast glitch fix. Exploitation can be stopped other than obtaining consensus of a network and rewriting the underlying code, which is called hard fork.
Executing a hard fork and rewriting the rules by which the blockchain executes, is a dangerous action to take, because it goes against the very essence of blockchain. Every time a huge amount of valuables being involved when the blockchain rules are changed or people get negatively impacted from their point of trust, blockchain willing to lose its main values: security, anonymity and unchangeability.
Great technology – young stage
Being in young stage the Smart contract is very adaptive technology, has numerious of potential uses, providing unique options which ones may have enough validity to augment changes at certain industries in the future. At current level, contract still have plenty of play on improvements for capability be used for everyone in daily basis. One thing for sure the concept of technology is only going further for continious developement.