Intel to make cryptocurrency mining more efficient
One of the world's largest IT company Intel has filed a patent helping out to reduce costs for Bitcoin mining.
Entitled 'Bitcoin Mining Hardware Accelerator with Optimized Message Digest and Message Scheduler Datapath' was originally submitted in 2016 September, but only now being released for the first time.
Effectiveness over 30% in comparision with regular equipment
Intel claims to have found a more reasonable and cost-effective way to mine Bitcoin. The patent says the product can decrease energy use by up to 35% meanwhile lowering financial requirements and mining more bitcoins in the process.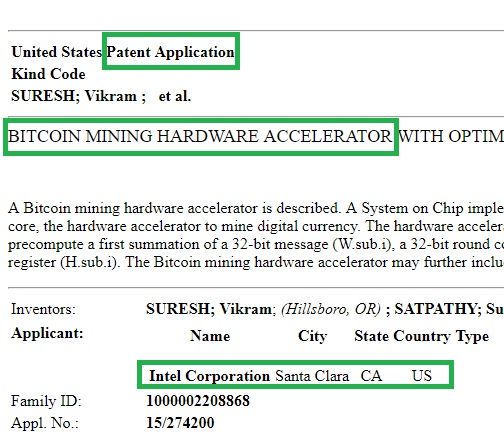 "Because the software and hardware utilized in Bitcoin mining uses brute force to repeatedly and endlessly perform SHA-256 functions, the process of Bitcoin mining can be very power-intensive and utilize large amounts of hardware space.
The embodiments described herein optimize Bitcoin mining operations by reducing the space utilized and power consumed by Bitcoin mining hardware."
Finding the problem
Intel explains one of the most expensive step involved in any mining is finding the 32-bit field.
"The most expensive operation in mining may involve the computationally intensive task of finding the 32-bit nonce, which when appended to the Merkle root, previous hash and other headers, produces a 256-bit hash value, which is less than a pre-defined threshold value.

A typical SHA-256 datapath consists of two major computational blocks–a message digest and a message scheduler with SHA-256 specific functions that combine multiple 32-bit words followed by 32-bit additions. The performance of the fully unrolled datapath is limited by these two datapaths.

This hashing operation may be the largest recurring cost a miner incurs in the process of creating a Bitcoin and therefore there is a strong motivation to reduce the energy consumption of this process."
Cryptocurrency related patents increases in numbers
Intel will not start to focus on cryptocurrency path only of course, but this fact clearly shows that they want to improve the mining process and cryptocurrency itself. Anyways, this is not the only crypto-related patent by a known company. Few days earlier some freshly cooked patent was filed by a motor industry giant Ford.
Let's hope in the near future we are going to be flooded with potential crypto-patents by worldwide known names as it makes a clear sign of it's worth to HODL.