KuCoin starts distribution
KuCoin today announced has started distributing the hard fork Bitcoin Private (BTCP) to all users. You can check the distribution record through the deposit tab in your KuCoin account.
Anyone holding BTC in KuCoin will be credited Bitcoin Private (BTCP) at a 1:1 ratio. The hard fork Bitcoin Private (BTCP) happened at BTC Block Height 511,346.
Blockfolio already has BTCP monitoring available, Bittrex created BTCP wallet option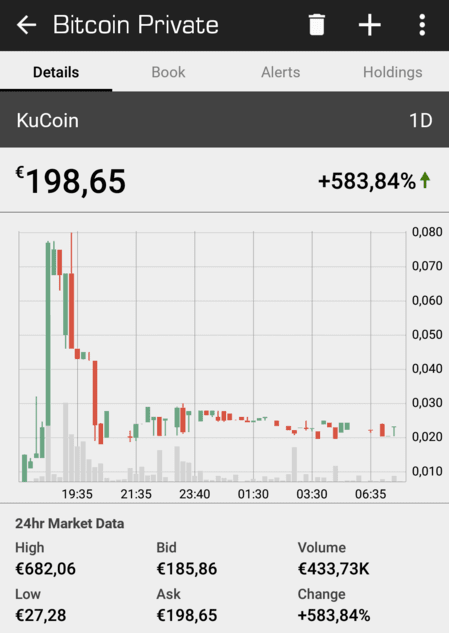 This morning we found this cute upgrade. Bitcoin Private is already monitoring on Blockfolio.
Bittrex already has wallet option for Bitcoin Private, but since now exchange didn't announces if it will accept BTCP for trading, because now wallet was created just to distribute forked BTCP for ZCL holders.
Bitcoin private cause many attention from many media sources and investors, even CNBC didn't missed their chance to talk about Bitcoin Private fork on their twitter account.
Bitcoin private has reached a new level of meta. A fork of a fork of a fork. #CNBCcrypto pic.twitter.com/QOvzv5ZSaq

— CNBC (@CNBC) March 6, 2018
All who are planning to invest in Bitcoin Private – you should read this article about setting up a long term strategy for BTCP. This is a great article by BTCP developers.
Here's BTCP developers plans for March. Look's promising.
1) Work on hardware wallet support
2) Work with Bittrex/KuCoin to credit ZCL/BTC holders
3) Work with HitBTC/TradeSatoshi to complete listing of BTCP
4) Work on implementing full SegWit support
5) Continued work and testing of BTCP Electrum
6) Work with other exchanges to make BTCP more accessible
7) Improve the UX for Fullnode/Electrum 'zcl/btc->btcp' features
8) Improve initial block download / node sync times
9) Work with CoinMarketCap and other related websites to integrate BTCP
10) Implement a periodic community update framework
11) Further develop and release a medium-longterm Bitcoin Private product strategy roadmap