Bitcoin Private (BTCP) is called the most interesting fork of Bitcoin so far. Zclassic developers are looking to merge Zclassic with codebase of Bitcoin core. It means Bitcoin core gets upgraded with full on privacy ZCL core built with ZK-Snarks. The result is strong as never: private, fast (x4-x6 times faster that BTC) and cheap transactions driven cryptocurrency. It really sounds promising. For more informations what is Bitcoin Private and how you can get BTCP for free with holding ZCL on fork in February 28th you can read in our previous article about Bitcoin Private.
Our whitepaper is ready for release! To our knowledge, this is the first Bitcoin hardfork whitepaper. Read the whitepaper here:https://t.co/qn6mGFNami

— Bitcoin Private (@bitcoinprivate) February 20, 2018
BTCP whitepapers released, next step – Fork on February 28th
Yesterday BTCP team released whitepaper which was accepted as very positive by numbers of internauts and cryptocurrency investors. You can find official BTCP whitepaper HERE or press on Bitcoin forks comparison image.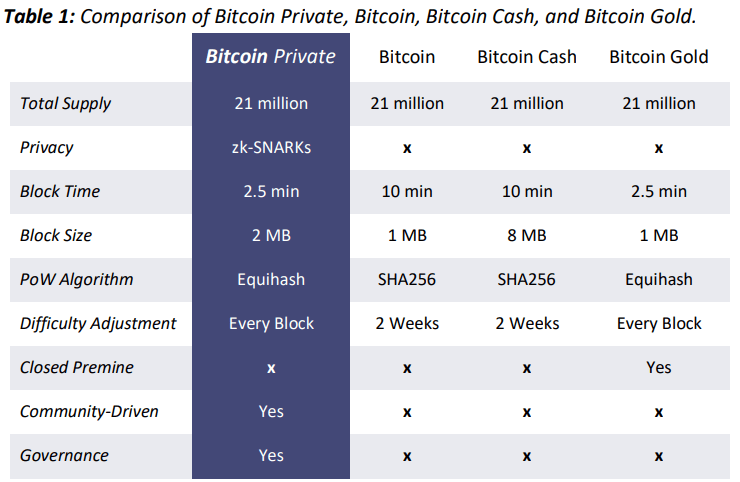 Here's in deph video review of BTCP whitepaper
Conclusion (from whitepaper)
Bitcoin Private is a cryptocurrency developed and maintained by a diverse
community. Team members from around the globe collaborate daily to make this
project a success. They do so, because they believe the project fulfills Satoshi's
original vision of financial freedom via fast, low-fee, decentralized, and private transactions.
For URGENT answers of hot info updates you can follow this official BTCP reddit thread HERE.