Blooming popularity for cryptocurrencies have received alot of positiveness, but also guided some negative vibes in various angles.
Marcin Dubiel – Polish Youtuber who has around one million subscribers was offered with a payment of approximately $30,000 (over 90 000 zl)  by the Central Bank of Poland. In exchange Youtuber had to cooperate with Polish Financial Supervision Authority and was asked to display cryptocurrencies from negative side without letting viewers know about payment for such 'advertising'.
The paid video STRACIŁEM WSZYSTKIE PIENIĄDZE?!'
'I've lost all my money?!' paid video shows an easy way to get rich from cryptos, but in the end finding out he had no money to pay for his date in restaurant and left with empty pockets from cryptocurrency investments.
Wouldn't it be funny if Marcin used the money earned by the central bank of Poland to buy bitcoin? Well, judging by the video below, it seems that he would not do that.

---
---
Here's official document regarding payment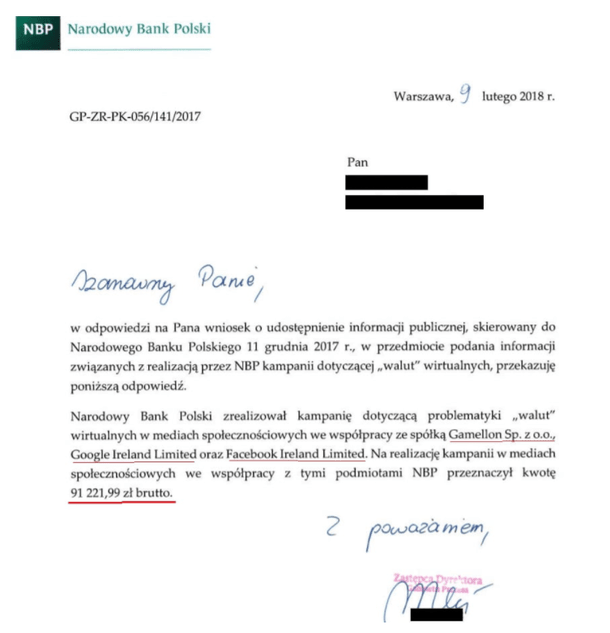 Video was viewed for more than half million times. In the description hashtag #uważajnakryptowaluty is located, in english it sounds something like 'watchout for the cryptocurrencies'.



You can find this website https://uwazajnakryptowaluty.pl related to this hashtag. Central Bank of Poland has admitted that 'it carried out a campaign on the issue of virtual currencies in social media'. Poland's Central Bank and FCA portrays digital currencies as risky investment without having any guarantee which are not even classified as electronic money.
Anyways, they do not explain why their paid advertising was unannounced in the video by famous Polish Youtuber who is possibly be just one among others who could've receive such payments. Within a democracy it is illegal for state actors or contractors to engage in propaganda directed at their own citizens.