Notice
: Undefined offset: 1 in
/var/www/html/cryptovibes.com/wp-content/themes/jnews/class/ContentTag.php
on line
86
Notice
: Undefined offset: 1 in
/var/www/html/cryptovibes.com/wp-content/themes/jnews/class/ContentTag.php
on line
86
Buy, sell, send and receive Bitcoin Cash on Coinbase
On 2017 December 19th, 4.01PM Coinbase announced that customers will be able to buy, sell, send and receive Bitcoin Cash on Coinbase.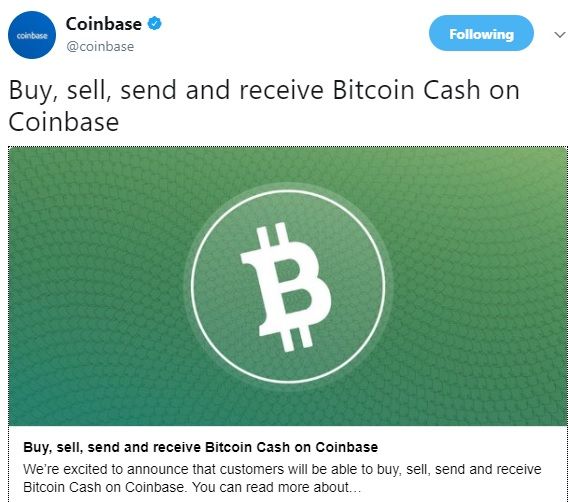 Furthermore, sends and receives are available immediately. Buys and sells will be available to all customers once there is sufficient liquidity on GDAX. Coinbase anticipated that this will take a few hours.




UPDATE (December 19th 8:15PM):"Bitcoin Cash sends and receives are functional. Buys and sells on the Coinbase website and in Coinbase mobile apps will be available to all customers once there is sufficient liquidity on GDAX. We anticipate that this will happen tomorrow."
Coinbase customers should benefit from forks
"Coinbase operates by the principle that customers should benefit to the greatest extent possible from forks or other networks events. This is essential in our mission to make Coinbase the most trusted, safe, and easy-to-use digital currency exchange."
Bitcoin Cash was created by a fork on August 1st, 2017. All customers who held a Bitcoin balance on Coinbase at the time of the fork will now see an equal balance of Bitcoin Cash available in their Coinbase account. Your Bitcoin Cash balance will reflect your Bitcoin balance at the time of the Bitcoin Cash Fork, which occurred at 13:20 UTC, August 1, 2017. You can read more about what a bitcoin fork is here and previous update on Bitcoin Cash here.
Coinbase have been monitoring the Bitcoin Cash network over the last few months and have decided to enable full support including the ability to buy, sell, send and receive. Factors they considered include developer and community support, security, stability, market price and trading volume. You can learn more about Bitcoin Cash here.
Customers will be able to buy Bitcoin Cash using all of our supported fiat currencies: USD, EUR, GBP, CAD, AUD and SGD.
Coinbase maintains a strict trading policy and internal guidelines for employees. Coinbase employees have been prohibited from trading in Bitcoin Cash for several weeks.
Bitcoin Cash Soars
As a result of positive news investors took place in buying BCH instantly.
UPDATE: This is candle sticks from 2017 December 20th day after writing an article.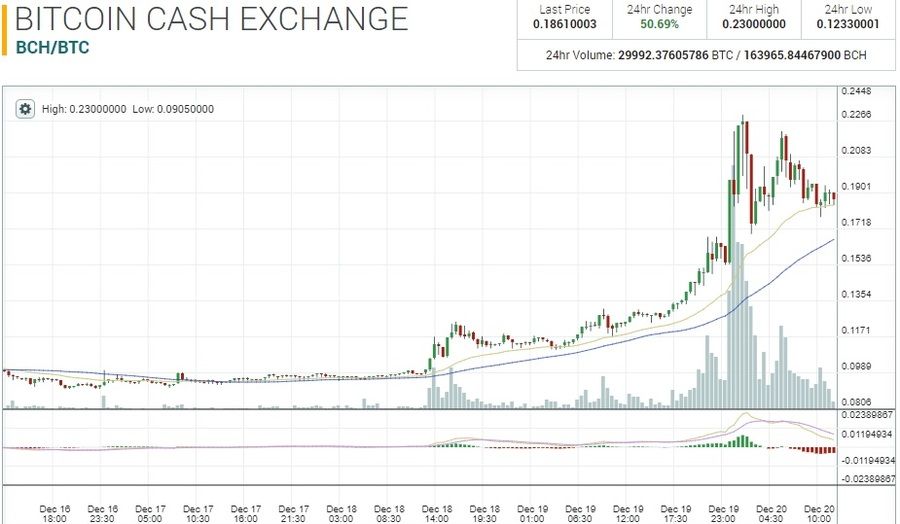 Source: Coinbase Blog