Want to joinin cryptocurrency mining? Check out the list of the Best GPUs for Mining Cryptocurrency in 2019!
---
GPU mining versus CPU mining
GPU (graphics processing unit) mining is always a better choice if you want to get results (in this case coins) as fast as possible. Since bitcoin has it's own GPU killers also known as ASIC's nowadays miners with GPU mine Ethereum and other altcoins (alternative cryptocurrencies). Comparing to CPU mining GPU mining is faster and way more competitive as you can mine in higher speeds (mh/s; sol/s; mb/s) but you waste more power/electricity, GPU mining temperature monitoring becomes key-action and your equipment "gets old" faster.
GPU mining temperature monitoring
In case you started GPU mining but wondering what is normal temperature and what is dangerous temperature let me help you with this GPU mining temperature monitoring info:
0°C – 29°C  – You should turn your PC ON.
30°C – 49°C – Normal PC stand by, did you turned your miner ON?
50°C – 59°C – GPU is working fine, might be working even more hard.
60°C – 69°C – Some action is going on, but GPU still processing in very acceptable rate.
70°C – 75°C – Very active mining or high quality gaming is on. It shouldn't get any hotter.
75°C – 79°C – Well, this is now a risk zone. Some GPU's might survive it, but I advice to back it off.
80°C – 89°C – If you are still running and don't smell plastic – you literally ruining your GPU.
90°C – 99°C – Apparently room filled with smoke. Well, this is a bad sign.
100°C – 109°C – Congratulations if your GPU handled this, now you must treat it like little puppy. And order new one.
110°C – xxxx°C – You can put your GPU on a wall of fame. It is officially dead.
How to monitor your GPU mining temperature (Software for our readers) 

I found some very simple, but amazing free software to monitor not only GPU temperature, but also CPU and etc. It is 100% MUST HAVE program for us, miners. I will leave DOWNLOAD link in bottom of article. This is a screenshot of program running.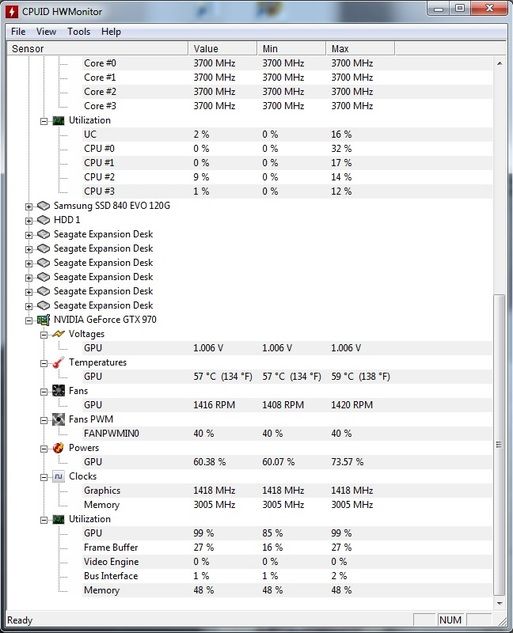 Please understand, mining takes a lot of energy from your GPU's so make sure you have solutions to make your premises well ventilated as a lot of fresh air is required to have a stable and confident mining operations, otherwise it doesn't mean your GPU will broke. JUST KNOW THAT:
GPU fans needs to work way more active to provide your GPU with enough fresh air to cool down your card so your fans will last shorter period of time.
Higher temperature of premises leads to usage of more electricity as your fans goes 'nuts' to cool your GPU.
Graphics card chip will last shorter period of time as it might be forced to work in higher temperature for a long time.
Make sure you clean your rig at least ONCE every two weeks.
Make sure propellers and GPU's are not dusty (remove any dusts from inside GPU using air compressor or a powerful blows with your mouth). Dusts from propellers can be easily removed with ear cleaner sticks.
So now you know everything to make sure your RIG will live long and happy after 🙂
Here is a link. Simple and really useful soft. Personal google drive link just for my readers.
---
If article was useful consider SUBSCRIBING us. We appreciate your support a lot!